Gale Gregory
I am the owner and founder of Moms Helper, which opened it's doors in January 2001. The agency specializes in the placement of nannies, housekeepers, baby nurses and companions for the elderly, and is geared toward providing excellent, personal service.
Prior to opening my business, I worked as a Corporate Senior Executive and had the need to acquire a nanny for my own family. Based on my first-hand experiences, I can relate to your concerns when searching for the right employee. That's why Mom's Helper was designed to provide carefully-screened applicants for a variety of situations.
We look forward to the opportunity to work with you.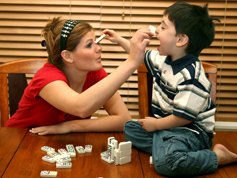 We pride ourselves in helping people find the perfect employee for their home. Because of our exceptionally high standards and evaluation techniques, we are extremely selective when it comes to finding suitable candidates for our clients.
All of our potential candidates must be intelligent, clean, reliable, honest and trustworthy. They also must have a pleasant disposition and speak English for your convenience. Most importantly, they must be loving and caring people.
Our business has been built on our reputation and we are confident we can assist you in finding the perfect nanny, housekeeper, or companion for you and your family.
Of course, checkable references are available upon request and all candidates may be interviewed at your convenience.
Please feel free to email us or call us at 516-822-2693.